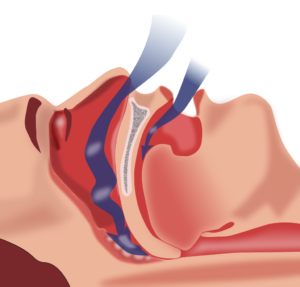 In the last 3 posts we've discussed that sleep-disordered breathing affects 4% of children, that it can be harmful to both children and adults, that your orthodontist works with primary care doctors and ENTs to screen patients for signs and symptoms of sleep apnea, and that for children, orthodontic appliances can aid in the treatment of sleep disordered breathing.
Many adults are prescribed a CPAP machine to address their sleep apnea - most patients find that their symptoms are relieved with the combination of CPAP use and weight loss.
For patients who can not tolerate a CPAP, your orthodontist or dentist can fabricate a custom-made night brace that moves the lower jaw and tongue forward. These appliances aren't always as effective as CPAP, and aren't for the most severe forms of sleep apnea, but tend to be better tolerated (especially by bed partners). To make the night brace we take a 3D scan of your teeth and plan the movement with the lab that fabricates the appliance. Several similar appliances have become available over-the-counter. Over-the-counter appliances, when not properly adjusted and monitored, can result in dental changes that can negatively affect the health of your teeth and bite.
Some adult patients may benefit from a course of orthodontic treatment or combined orthodontics and oral surgery to relieve a constricted upper jaw and/or small lower jaw  - these problems are addressed individually with each patient.
This marks the end of our series on sleep, airway and orthodontics. We hope you have found it informative and useful.  Sleep medicine is a complicated field, the science is evolving every day. Addressing health concerns such as sleep apnea and sleep disordered breathing and coordinating with other health-care professionals is part of what we do to make our patients happier and healthier.  :)
Drs. Steve Cagliostro and Gary Romeo
Leave a Reply